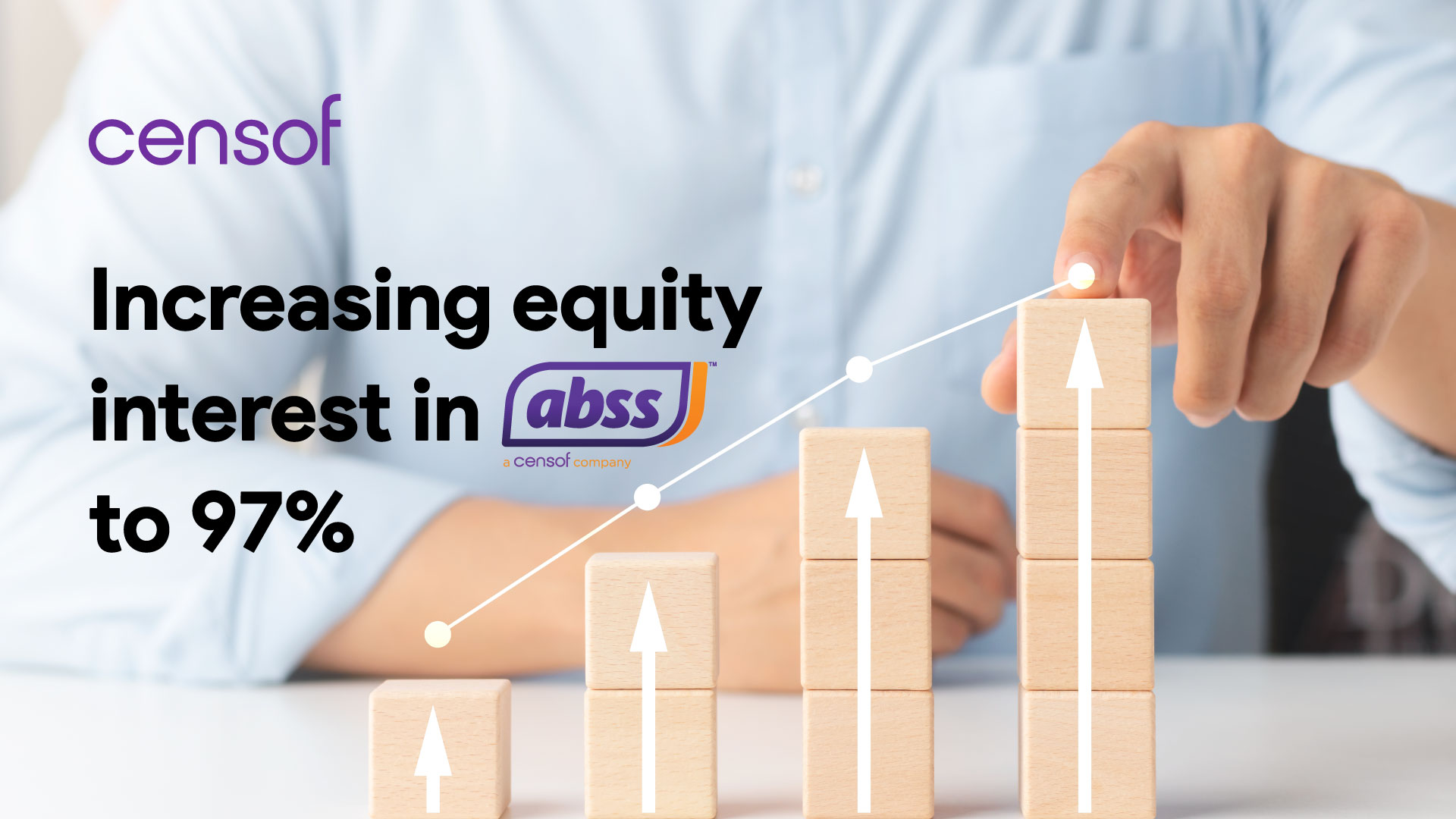 Kuala Lumpur, 15 June 2022 – Censof Holdings Berhad ("Censof" or the "Group"), a technology holdings company specialising in financial management software solutions, today announced that it has acquired 41,680 treasury shares in Asian Business Software Solutions Pte Ltd ("ABSS") for SG$1.28 million (equivalent to approximately RM4.09 million). The 41,680 treasury shares represent a 7.93% equity interest in ABSS, increasing Censof's equity interest in ABSS to 97.00% from 89.07% currently, upon completion of the acquisition.
The acquisition is expected to improve Censof's earnings with its higher equity interest in ABSS. It will also enhance the Group's long-term growth potential as well as strengthening its position as a market leader to provide the full spectrum of the financial management solutions across all levels of market segment.
"This additional investment in ABSS is yet another one of our strategic decisions to enhance our financial performance in the near future. As we have always said, Censof is not only offering financial management solutions to the government sector, it is also aggressively expanding into the commercial and SME segment. ABSS is an excellent platform for us to grow. Back in 2015, we have acknowledged ABSS' potential, with its strong presence in Southeast Asia and that was when we decided to acquire a 51% equity interest. Since then, we have increased our stake to 89.07% as of April last year. Over the last 6 years, we have seen exponential growth in ABSS. To date, ABSS has declared a total dividend of SG$6.3 million or approximately RM20.0 million since the acquisition in 2015. On average, ABSS serves more than 300,000 SME clients across Malaysia, Singapore and Hong Kong, where ABSS is currently the market leader in Hong Kong and Singapore," said Ameer Shaik Mydin, group managing director of Censof.
He further added that good prospects for the financial management solutions offered by ABSS are looming, as demand is anticipated to increase given its track records. ABSS has achieved an impressive revenue growth at a compound annual growth rate of 18.46% from year 2016 to 2022. Opportunities are endless as the Group is also tapping into the micro small and medium enterprises ("SME"), leveraging on the Financio software. The customer base for the Financio software is expected to double up within the next 2 years, barring any unforeseen circumstances. Financio, a product of ABSS, is a user-friendly cloud accounting software developed in English, Bahasa and Chinese that automates and simplifies accounting tasks, designed for small businesses. Being cloud-based, the software can be easily accessible from anywhere with very competitive pricing.
"We are glad our strategy is falling into place as planned, and as a result our earnings from our commercial and SME segment has expanded by over 50% from FY2021 to FY2022. This synergistic acquisition is deemed to unlock the opportunities for us to progress further to tap into the other various SMEs, which include the start-ups, micro and small businesses. There is no doubt that we are putting our full effort to achieve digital transformation, in line with the government's National Economic Recovery Plan to encourage more SMEs to start their digital transformation journey. Moving forward, Censof will continue to focus on growing its core businesses, as well as exploring inorganic opportunities such as penetrating into the area of digital technology via merger and acquisition exercises that could ultimately boost the Group's financial performances," he added.
Commenting on the acquisition, chief executive officer Rhys Brown said, "We are excited to have additional investment from Censof, following another strong financial year. While others in our industry struggle with balancing profitability and expansion, ABSS has managed both extremely well. The opportunity we have is huge, with over 300,000 SME customers. Moreover, our transition from established on-premise products to fully cloud-enabled solutions, like Financio, provides a great platform for rapid growth. Our recent strategic partnerships with RHB, DBS & Maybank combined with an ever-expanding partner network of accountants and bookkeepers will support significant customer migration and growth – we are just getting started."
ABSS is a developer and leading supplier of ABSS-branded financial management and accounting software that supports the Asian small and medium enterprises and cloud-based accounting product, namely Financio that caters for start-ups and entry level SMEs.