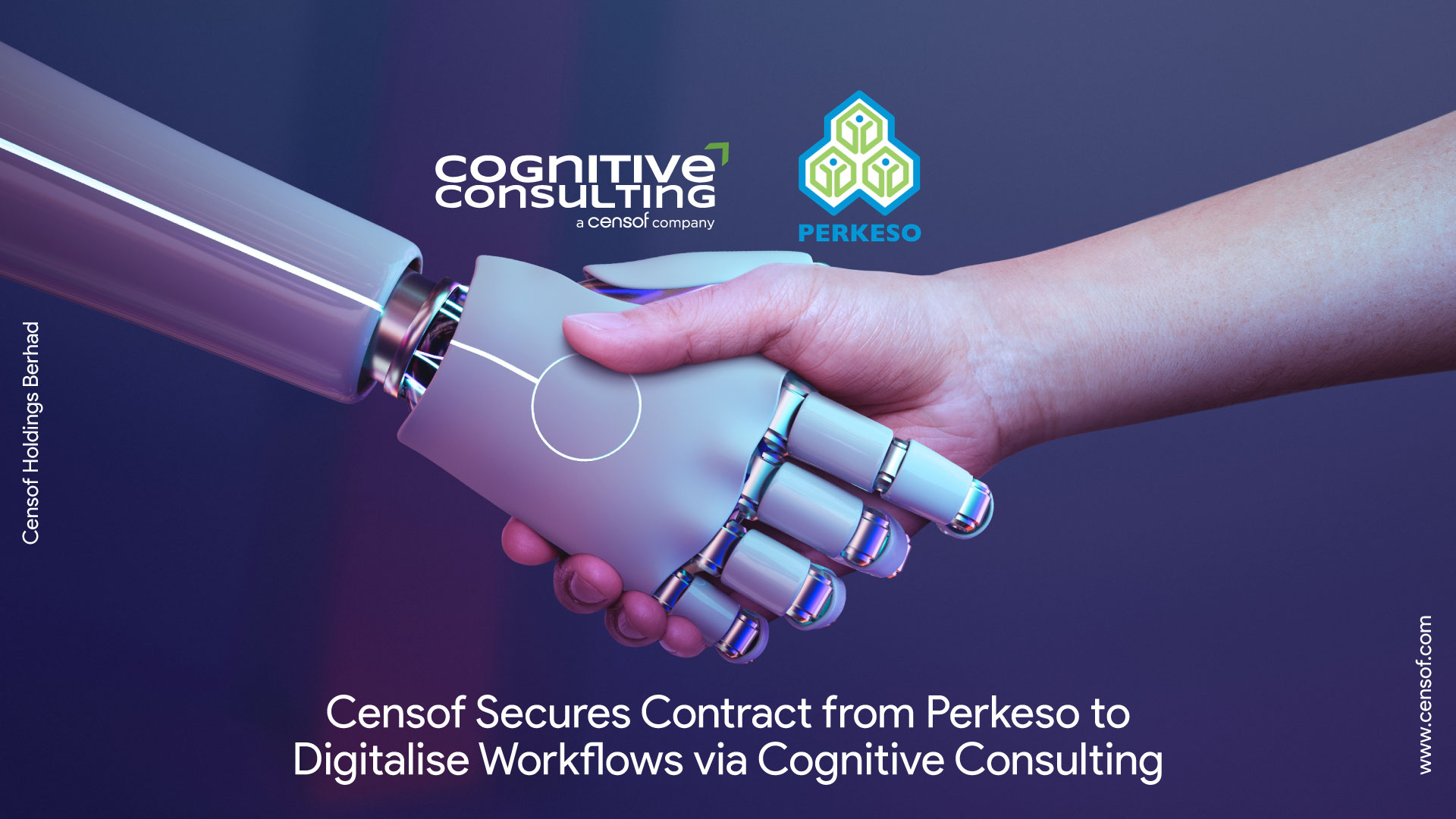 Petaling Jaya, 27 September 2023 – Censof Holdings Berhad ("Censof" or the "Group"), a technology holdings company specialising in financial management software solutions, has accepted a letter of acceptance ("LOA") from the Pertubuhan Keselamatan Sosial ("PERKESO") through its subsidiary, Cognitive Consulting Sdn Bhd ("CCSB").
The LOA, valued at RM0.87 million, involves the renewal of subscription, maintenance and support services for UiPath software and support services for systems at PERKESO that utilise the said software (the "Project"). The UiPath software uses the Robotic Process Automation ("RPA") tool to synchronise data between various systems in PERKESO, ensuring that all information is consistent across multiple platforms. Additionally, the RPA dashboards provide real-time insights into the status of bots which essentially allows PERKESO to monitor operations concurrently and make timely decisions.
The tenure of the Project is for a period of three (3) years from 1 October 2023 until 30 September 2026.
"We are pleased to have been entrusted with this project to streamline PERKESO's business processes. The UiPath software is undoubtedly a useful and functional solution to transform tedious and repetitive routine office tasks into automated processes. Leveraging on its functionalities, the software integrates key data from the various systems and therefore, eliminate the need for human intervention as well as significantly enhances the operational efficiency for PERKESO.
This award underscores our unwavering commitment to deliver excellence in technology solutions and marks a pivotal milestone in diversifying our revenue streams. We will continue to provide innovative solutions by evolving through the digital space and promoting digital transformation in Malaysia to achieve high productivity and high-value growth. In essence, this renewal contract with PERKESO will continue to solidify Censof's digital technology business division by providing evolving sets of
technology solutions, such as the RPA, artificial intelligence or AI and machine learning to our clienteles," said Ameer Shaik Mydin, group managing director of Censof.
CCSB is principally involved in the business of providing information technology consultancy and system integration services specialising in RPA that builds, deploys and manages software robots to emulate human actions interacting with digital system and software. Notable clienteles of CCSB include Telekom Malaysia, Accountant General's Department of Malaysia, Malaysia Digital Economy Corporation (MDEC) and Bank Simpanan Nasional, to name a few.