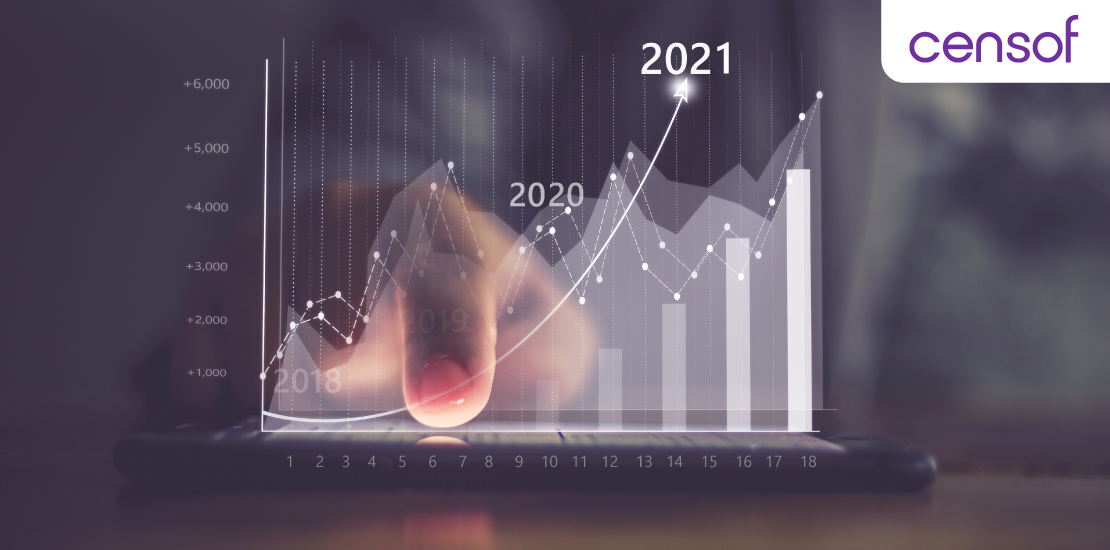 Censof's Digitalisation Strategy Remains Intact
---
Key Highlights
• Year-on-year, Q2FY2022 revenue of RM22.8 million, up by 26.6%.
• Quarter-on-quarter, Q2FY2022 revenue increased by 8.4%.
• Quarter-on-quarter, PATAMI increased by 17.8%.
• 1HFY2022 revenue surged by 40.5%.
Kuala Lumpur, 10 November 2021 – Censof Holdings Berhad ("Censof" or the "Group"), a technology holdings company specialising in financial management software solutions, reported its second quarter results for the financial year ending 31 March 2022 ("Q2FY2022") today.
Censof delivered a Q2FY2022 revenue of RM22.8 million, an increase of 26.6%, as compared to a year ago, which amounted to RM18.0 million. The improvement was mainly attributed to the higher revenue generated from the financial management solutions – government ("FMS – G") segment as a result of the project milestone deliverables for the "Perolehan Pembangunan Sistem Pelesenan Kenderaan Perdagangan (i-SPKP)" contract, which was awarded to the Group by the Ministry of Transport on 10 March 2021. Notwithstanding the improved revenue, profit after tax and minority interest ("PATAMI") was lower by 46.8% to RM2.1 million from RM4.0 million in Q2FY2021. The higher PATAMI in Q2FY2021 was primarily due to the recognition of an approximate RM2.1 million non-recurring gain on disposal of the short-term investment in Dagang Nexchange Berhad ("DNeX").
Quarter-on-quarter, the revenue was 8.4% higher than Q1FY2022's RM21.1 million. PATAMI grew by 17.8% as a result of the recognition of the gain on fair value adjustment on DNeX of approximately RM0.8 million and profit contribution from Censof's new segment, known as Digital Technology, which will solely focus on evolving technologies such as internet of things, cloud computing and infrastructure, robotic process automation, peer-to-peer platforms, artificial intelligence and machine learning.
For the six months ended 30 September 2021 ("1HFY2022"), the Group achieved a revenue of RM43.9 million, an increase of 40.5% against its corresponding period last year of RM31.2 million. Overall, every business segment of the Group has improved. Revenue derived from FMS – G increased by 52%, followed by the wealth management solutions, up by 39.9% and the financial management solutions – commercial segment, by 19.6%. Despite the hike in its revenue, the Group posted a lower PATAMI of RM3.9 million for 1HFY2022, down by 67.9% from 1HFY2021's RM12.1 million. The higher PATAMI in 1HFY2021 was due to the recognition of a non-recurring gain on disposal and a gain on fair value adjustment of DNeX's shares which amounted to RM2.1 million and RM8.9 million respectively. Stripping of these two gains, the adjusted PATAMI for 1HFY2021 would have been RM1.1 million, whilst the adjusted PATAMI for 1HFY2022, excluding the loss of fair value adjustment of RM1.3 million would be RM5.2 million, 372.7% surge, in line with the higher revenue generated in the said period.
Censof's balance sheet as at 30 September 2021 remained healthy with cash and bank balances, including fixed deposit and money market funds amounted to RM22.1 million. Net assets per share attributable to ordinary equity holders of the Company was 15.78 sen as at 30 September 2021.
"I am pleased with another set of resilient results for the second quarter. The Group's strategy to leverage on the adoption of digitalisation within the government and commercial sectors remains intact. We have observed an increase in appetite for more comprehensive solutions particularly in the adoption of cloud-based financial solutions and applications both locally and overseas as well. We remain steadfast in our commitment to deliver exceptional financial solutions that cater to every customer's customised requirements driven by our in-house development team and are confident in our ability to deliver long-term sustainable growth in the era of digitalisation.
On future prospects, we foresee that the RM200 million allocation in the Budget 2022 for the adoption of digitalisation among SMEs has indicated proactive measures by the government to push its business digitalisation agenda which stands to benefit Censof in the coming years. We continue to bid for commercial and government related projects and are delighted to announce that the Group was awarded a RM3.4 million contract named "Renewal Licenses for DBKL ePBT System Dewan Bandaraya Kuala Lumpur" for a period of 2 years, last week. We anticipate the project to contribute positively to our earnings, going forward," said the group managing director of Censof, Ameer Shaik Mydin.
On a separate note, Censof is committed to create a sustainable future in its business, by pushing ESG components to the forefront. Given this, Censof, through its subsidiary, Tender Pintar Sdn Bhd ("Tender Pintar") is exploring opportunities to work together with EMERGE. The latter is a National University of Singapore supported tech start-up that builds ESG-driven state of the art artificial intelligence ("AI") procurement demand aggregators for social enterprises. Tender Pintar is a robust, feature rich end-to-end solution for e-Tendering, e-Procurement and e-Auction. With this AI procurement platform, Tender Pintar will not only capitalise on economies of scale, more importantly engage with suppliers and/or manufacturers, who are ESG compliant.