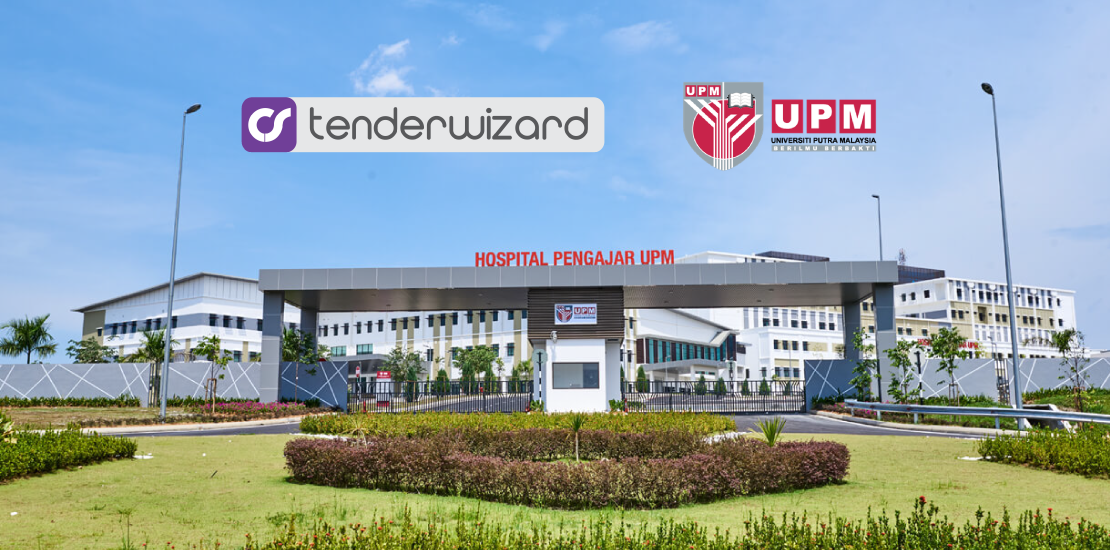 TenderWizard Cloud Based e-Tendering System Promotes Digitalization Solution for The Healthcare Industry in line With Malaysia's Digital Transformation Plan
PETALING JAYA, June 28 (Bernama) — Censof Holdings Berhad ("Censof"), a technology holdings company specialising in financial management software solutions announced the official partnership with Hospital Pengajar Universiti Putra Malaysia (HPUPM) to implement TenderWizard system for all their tendering and procurement processes, through its subsidiary, Century Software (M) Sdn Bhd ("CSM"). The partnership, which was piloted in February 2021 and is now at full integration, will see massive increase in the departments' daily operations' efficiencies and will provide win-win solutions to increase outcome and efficiency in tandem with Censof's effort to drive digital transformation in the public sector.
TenderWizard, a software that runs on Telekom Malaysia's Cloud, is the latest system of its kind that offers end-to-end solution for all e-Tendering and e-Auction processes. It is an exclusive web-based government-to-business (G2B) or business-to-business (B2B) product for buying goods and services through quotations, tenders, reverse or forward auctions and supports selling and buying of goods through tender-cum-auction. TenderWizard can be used for all types of tendering, including works tendering processes.
The cost-effective solution comes integrated with a payment gateway (for vendor registration & sale of tender documents) and is designed with user-friendly features. The solution, which provides end-to-end solution is expected to improve the efficiency and effectiveness of any procurement process, resulting in speeding up the procurement cycle, as well as ensuring the transparency and integrity of the procurement process. This attainment is aligned with the country's endeavours to progress towards digitalization.
"For Censof to arrive at this momentous milestone with HPUPM with the adoption of TenderWizard reflects the testament of our work in digital transformation for Malaysia's healthcare industry. This marks our initiative to strengthen Censof's position as a significant player in providing top-notch digital technology and solutions to improve workflow efficiency and productivity for Malaysia's public healthcare sector. We will constantly innovate with the latest developments on technologies and continue to capitalise on our experiences, knowledge and capabilities to create and provide improvements to our existing products and solutions. The innovation will further facilitate digital adoption across the public sector and accelerate the public healthcare industry by enhancing participation from local players in the procurement activities," said Dr. Zainul Ariffin Harun, Chief Executive Officer, Century Software (M) Sdn Bhd.
"The collaboration with Censof for this project is our move towards adopting the digital initiative that was announced by our Prime Minister earlier this year. We have experienced 40% efficiency and improvement upon the implementation of TenderWizard in our tendering and procurement processes. We are exultant as this reflects positively on the optimization performance of HPUPM as a public healthcare provider in Malaysia," said YBhg. Prof. Dr. Mohd. Roslan Sulaiman, Vice Cancellor, Universiti Putra Malaysia.
TenderWizard is proven to maximize procurement results by improving process effectiveness, eliminating fraud and introducing cost-efficiencies, as there are no cost of change management and implementation.  At the same time, it also ensures timely award solutions in a user friendly and efficient environment. Through the adoption of TenderWizard in various government statutory bodies and agencies, the evaluation of the procurement process has ascertained to be faster and accurate, resulting in an improved quality of tender specification and supplier response in a wider geographical coverage. To maximize the accessibility of TenderWizard to any new agencies, CSM is offering a waiver on all implementation and change management fee throughout this year to assist and accelerate the effort in digitising Malaysia's public sector.