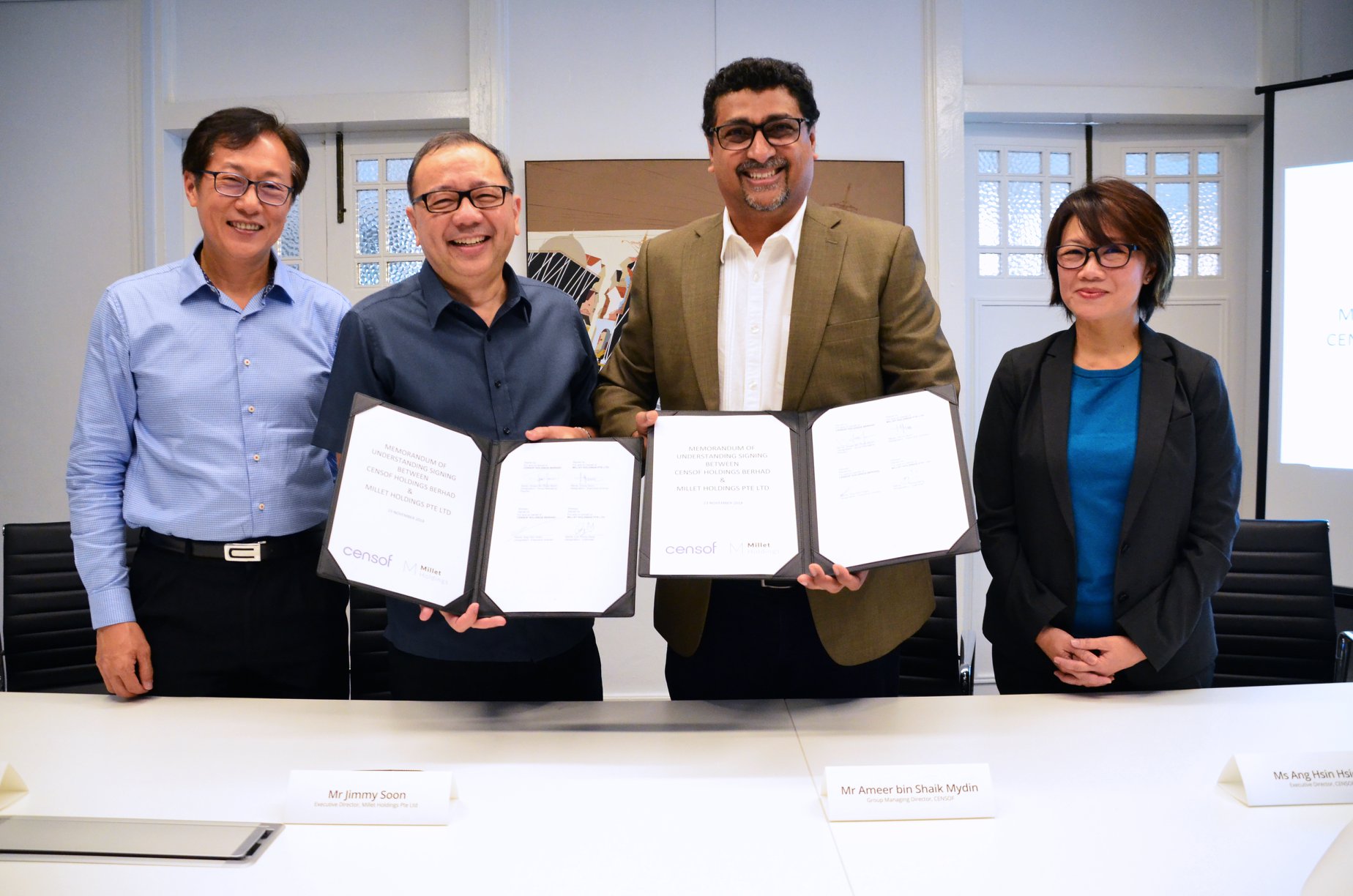 Singapore, 28 November 2018 – In an MOU signing between Censof Holdings Berhad and Millet Holdings, a strategic partnership was inked that would provide Millet with market access to Malaysia, where Censof has an established base of more than 407,000 small and medium enterprises (SME) customers since 2008.
"We are delighted to announce our strategic partnership with Millet Holdings. We strongly believe that both companies, can leverage from each other's strengths to create synergies and develop smart innovative solutions for the Malaysian market." said Ameer Shaik Mydin, Group Managing Director at Censof Holdings Berhad.
"Our objective is to ensure SMEs embrace digital transformation and through this collaboration we believe that it will be a big step towards making this vision a reality. With this in mind, the new offerings through this partnership will be a leap forward for our SME customers."
The MOU will see Millet collaborate with Censof Holdings Berhad on a range of business opportunities that include creative place and space making, creating physical and digital co-working platforms for SMEs in the creative industries, as well as providing consultancy and business solutions using emergent technologies across Malaysia.
A pipeline of projects is in the works which will leverage on Millet's wide-ranging expertise marrying the use of emergent technology. Key projects include the master planning of a SMART CITY with real estate technology solutions Future@Malls and MetaverseCreator by Metaverse, an integrated children technology theme park, Future@Work and Cave Automatic Virtual Environment, an immersive teaching-learning environment for children to experience, experiment and create through the use of new technologies such as virtual reality, augmented reality, holograms and 360 degrees video.
Executive Director at Millet Holdings. "This marks a tremendous milestone for Millet Group as we ink the MOU with Censof Holdings Berhad. This collaboration with a prominent public listed company from Malaysia affirms our value proposition strongly as a group – Millet has know-how in placemaking, regional connectivity and access to emergent technology within its group businesses. Combined with Censof's domain knowledge of digital technology and market access in Malaysia, we are confident of gaining greater traction amongst SME businesses to provide innovative solutions in this new technology-driven business landscape."