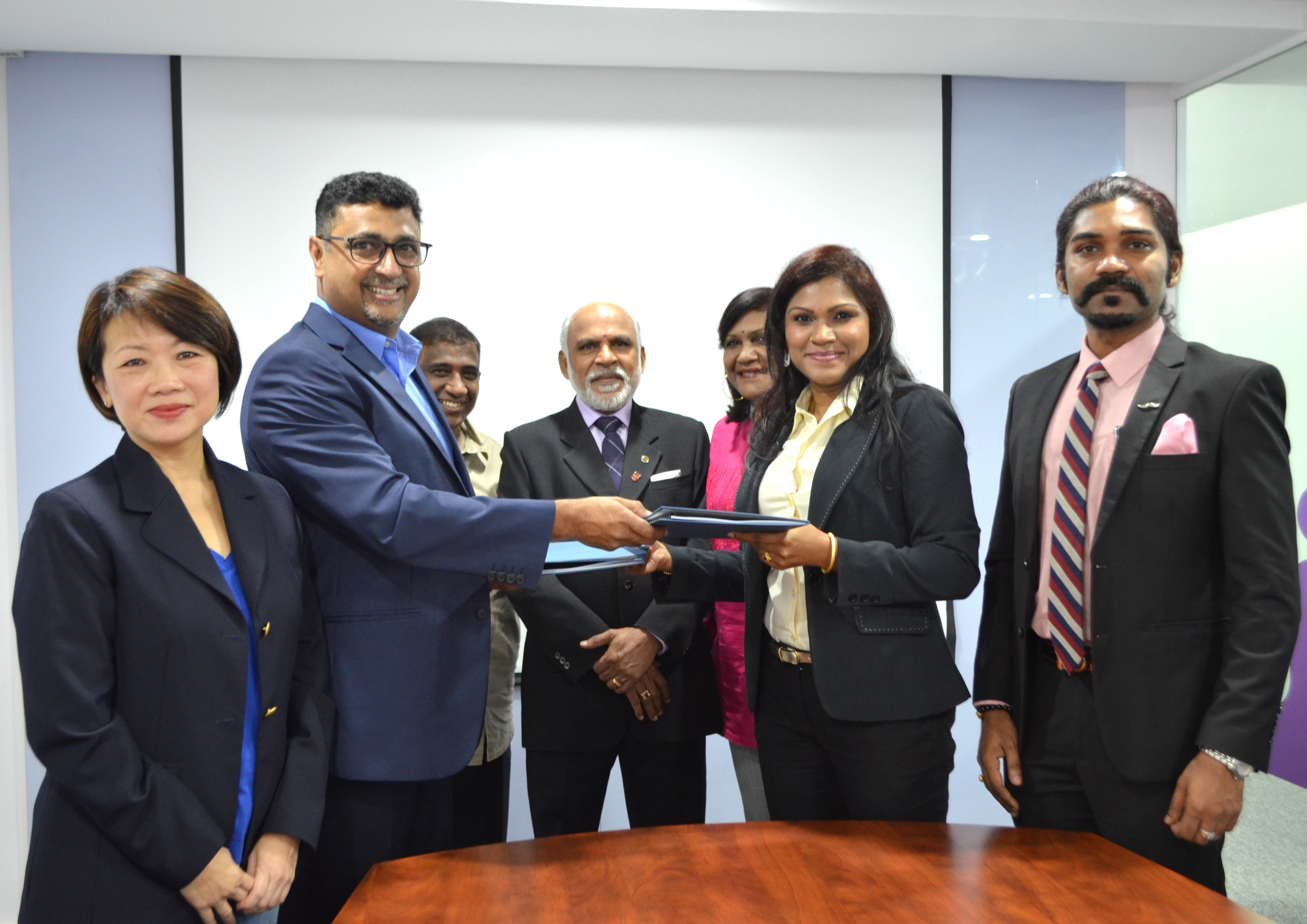 Petaling Jaya, 11 November 2019 – Financial management solutions provider, Censof Holdings Berhad ("Censof" or "the Group"), is partnering with a specialist in insurance advisory and claims services to develop an online insurance comparison portal to provide users with a more transparent and hassle-free experience when purchasing insurance.
The collaboration was formalized with the signing of a teaming agreement between Censof's wholly owned subsidiary, Censof Maal Sdn. Bhd. ("Censof Maal") and OSCA Sdn. Bhd. ("OSCA"), which is primarily involved in providing insurance advisory services, as well as being a third-party administrator of insurance claims services.
The teaming agreement was signed at a ceremony held at Censof's headquarters in Petaling Jaya where Censof Maal was represented by En. Ameer Shaik Mydin, Censof Group Managing Director while OSCA was represented by its Director, Ms. Shadhana Sekaran.
The partnership will see Censof Maal and OSCA working together to develop an online insurance comparison portal whereby users will be able to compare and purchase life, general and medical insurance from various insurance providers at a competitive rate. The collaboration will also look into offering claims handling services to provide users with a hassle-free claims process.
Censof Group Managing Director, En. Ameer Shaik Mydin said, "We are excited to include the insurance portal as part of our extensive financial management services. Backed by Censof's expertise in technologies such as blockchain, artificial intelligence, big data analytics and OSCA's in-depth knowledge of the insurance industry, we are confident in delivering a portal that truly serves the need of today's consumers."
"The big idea of this platform is to offer consumers an option where they are able to research and compare insurance products with the information provided by the respective insurers. The direct engagement will fast-track the buying and claiming process as consumers will have complete control of choosing the insurances which suit them best, without much dependence on agents. In turn, it will be a safe haven for consumers as the portal will help eliminate misleading dissemination of information."
"Our key markets will be the private and public sectors in Malaysia, Singapore and beyond. With the diversified product offerings in the pipeline, we look forward to filling in the gaps and re-imagining the world of insurance with OSCA," he concluded.
OSCA Director, Ms. Shadhana Sekaran said, "This is an opportune time for such strategic tie-ups with like-minded partners such as Censof as the insurance industry is going through a digital transformation. The online insurance space in this region has huge untapped opportunities and we hope to be one of the first movers to utilize technology to re-define the traditional insurance industry."