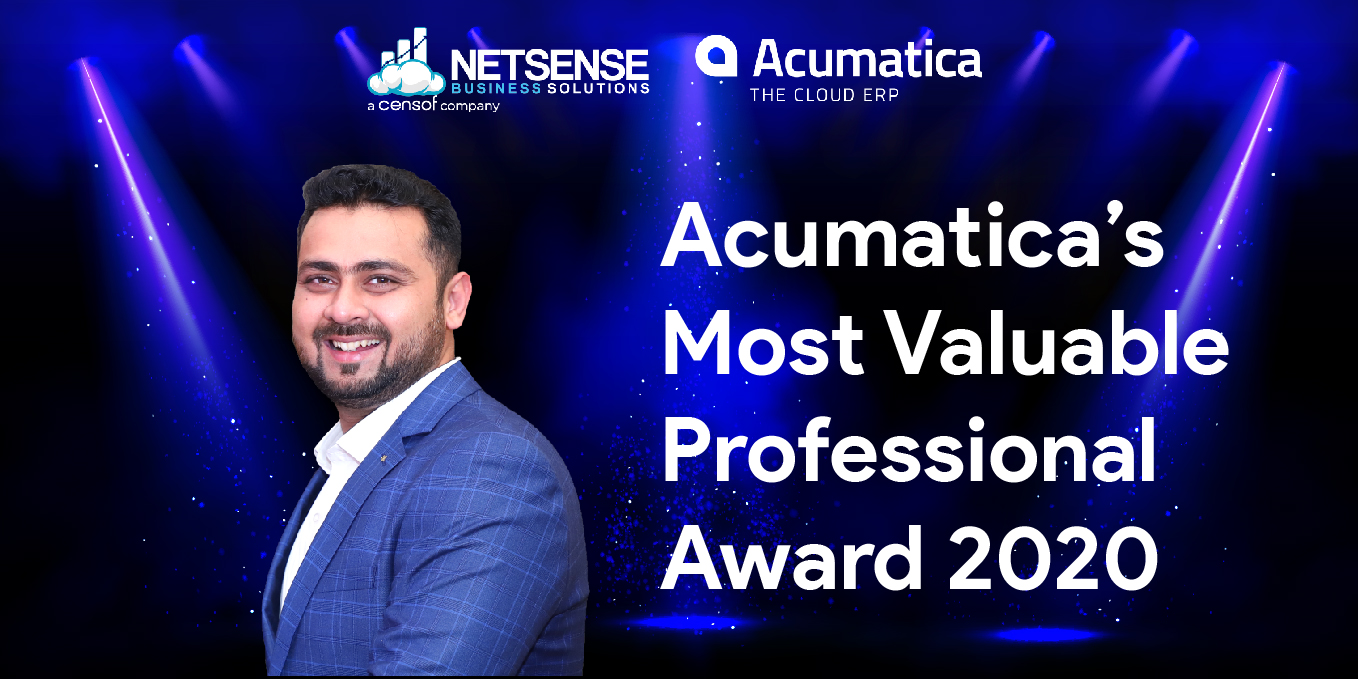 Petaling Jaya. 1 March 2021 – Netsense Business Solutions' Chief Executive Officer (CEO), Abdul Rehman was named Acumatica's Most Valuable Professional (MVP) 2020. He is the only MVP named in Asia currently. The Acumatica MVP Program was created to show tangible gratitude to community members who actively participate and contribute in growing and improving Acumatica's cloud ERP solution and cloud xRP platform by engaging in various activities organized by Acumatica for the benefit of its community.
The award announcement was made by Ajoy Krishnamoorthy, Executive Vice President, Products and Chief Strategy Officer of Acumatica during Acumatica 2021 R1 Virtual Launch Event. The esteemed title is awarded to Abdul Rehman in acknowledgement of the passion, commitment and support he has shown towards the continued success of the Acumatica community. Acumatica's MVP is described as an individual who has influenced the growth and direction of Acumatica in a positive way through sheer passion and dedication. Abdul Rehman is the founder and CEO of Netsense Business Solutions' companies since 2013. His experience in Mid-Market ERP applications, paired with his vision, leadership and knowledge in the industry has boosted Netsense's success and growth in the recent years as ERP specialist.
"I appreciate the recognition from our technology partner, Acumatica, and I would like to thank my colleagues at Netsense and the management of Censof Holdings Berhad for their support and guidance. Receiving this honour for the first time has inspired myself and my team to strive for continuous success and growth. It is indeed a proud moment for us to be recognised and be given this award and to be the only MVP in Asia currently," said Abdul Rehman.
Netsense Business Solutions Pte Ltd & Netsense Business Solution Sdn Bhd, subsidiaries of Censof Holdings Berhad, has presence in Singapore, Malaysia and Indonesia. Providing business solutions to more than 40,000 active users worldwide and 500+ business process automated, Netsense's array of business solutions include ERP Software (Enterprise Resource Planning System Solutions), Intermediate Accounting Software, CRM, HR Software (Human Resource Management Solutions), Payroll, Project Management, Business Intelligence Tools, Customized Dashboards, Mobile Apps and E-Commerce Solutions that benefit 100+ SME's.