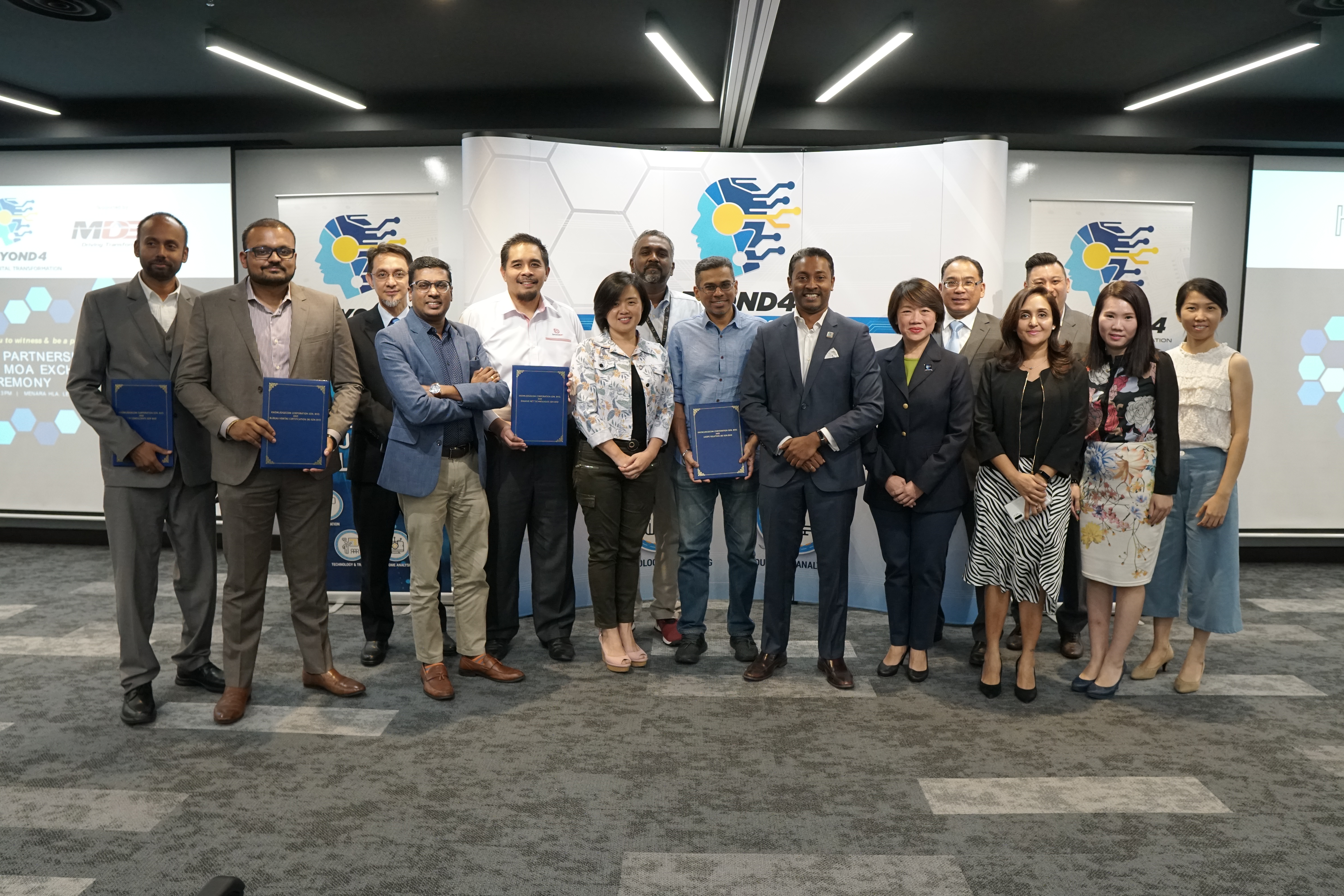 Kuala Lumpur, 16 January 2020 – Knowledgecom Corporation Sdn Bhd ("KCOM"), a subsidiary of Censof Holdings Berhad ("Censof") and 10 technology and training companies exchange Memorandum of Agreements ("MOAs") today to outline their respective participation in the BEYOND4 initiative.
Over the span of a decade, KCOM has evolved into a leading local industry player in the design and delivery of Information Technology training programmes. Now spearheading BEYOND4, the company aims to integrate Industry Revolution 4.0 ("IR 4.0") practices and technology into business operations.
The BEYOND4 initiative consists of a neutral, non-competing open vendor ecosystem in training, technology and strategic partnership. The goal is to drive digital transformation as value exchange, fostering synergy among alliance partners to collaborate and innovate.
Chief Executive Officer of KCOM, Mr. S. T. Rubaneswaran said, "As the world move towards the IR 4.0 era, there is rising demand to upskill and prepare the workforce to embrace new trends and developments impacting our manufacturing and service industries."
"Starting from Malaysia, we plan to expand this initiative further by replicating this model throughout the South East Asia region. Our goal is to attract 50 technology and training partners in each country to form a strategic and collaborative alliance to propel the adoption of digital technology in the respective countries."
This will also tackle the issue of decreasing job opportunities faced by the growing middle-income population and the Non-STEM (Science, Technology, Engineering and Mathematics) workforce.
The BEYOND4 ecosystem saw the exchange of MOAs between ten partners today which include: –
1. Knowledge Group Consulting Sdn Bhd
2. CXS Analytics Sdn Bhd
3. Loops Solution (M) Sdn Bhd
4. Bureau Veritas Certification (M) Sdn Bhd
5. Dagang Net Technologies Sdn Bhd
6. Quandatics Academy Sdn Bhd
7. AceStar Sdn Bhd
8. Trainocate (M) Sdn Bhd
9. GKK Consultants Sdn Bhd
10. Secure IOT Academy Sdn. Bhd
KCOM's other digital transformation efforts include its tie up with Hong Leong Financial Group Berhad via HLX Management Sdn Bhd, an innovation exchange startup wholly owned by property arm GuocoLand Malaysia Berhad, to operate a digital campus at Menara HLA.