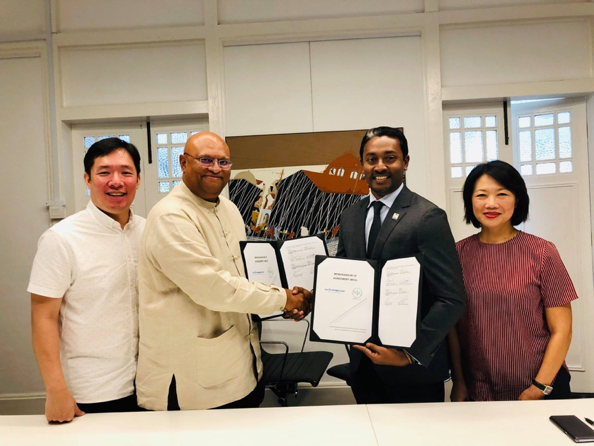 Singapore April 18th, 2019 – Today, Knowledgecom Corporation Sdn Bhd, a subsidiary of Censof Holdings Berhad and Millet World Pte Ltd announced a strategic partnership. The companies will collaborate and develop business in education, training and skills development in emergent technologies.
Armed with more than twenty-five years' experience in building communities, Millet World has domain expertise in teaching children the Arts and Emerging Technologies with territorial know how and network connecting business in Singapore.
Millet World Digital Chief Executive Officer, Mr Aravind Vasu said: "Our goal as a placemaking company is to build a digital-forward community and we believe that the way to achieve that is to start with disrupting the education sector.
By developing cutting-edge learning materials and IPs with our partner, Knowledgecom, we hope to empower the young to see themselves as global citizens, essential for the growth of society. This collaboration comes at an exciting time as the transformative digital drive is taking place massively in Singapore and Malaysia. The complementary strengths of the two organisations further reinforce our commitment to our digital transformation agendas."
Known for their training and skills development expertise in the IT and Industry 4.0 area, Knowledgecom specialises in designing and delivering programs that will create high income, high employability and efficient workforce in all sectors.
CEO of Knowledgecom Corporation Sdn Bhd, S T Rubaneswaran said: "This partnership will ensure that bright motivated students have the skills, mentors, and confidence needed to begin careers in technology."
This collaboration will see Millet World and Knowledgecom Corporation join forces with to jointly develop and own courses on emergent technologies. In partnership with Millet World, Knowledgecom will also facilitate in producing trainer's manual and learning guide suitable for marketing based on the course structure and lesson plan provided by Millet World.
Censof Group Managing Director, Ameer Bin Shaik Mydin said: "The world is changing and becoming more digitally inclined. As this happens so do our learning and teaching habits, hence the need to be more innovative."