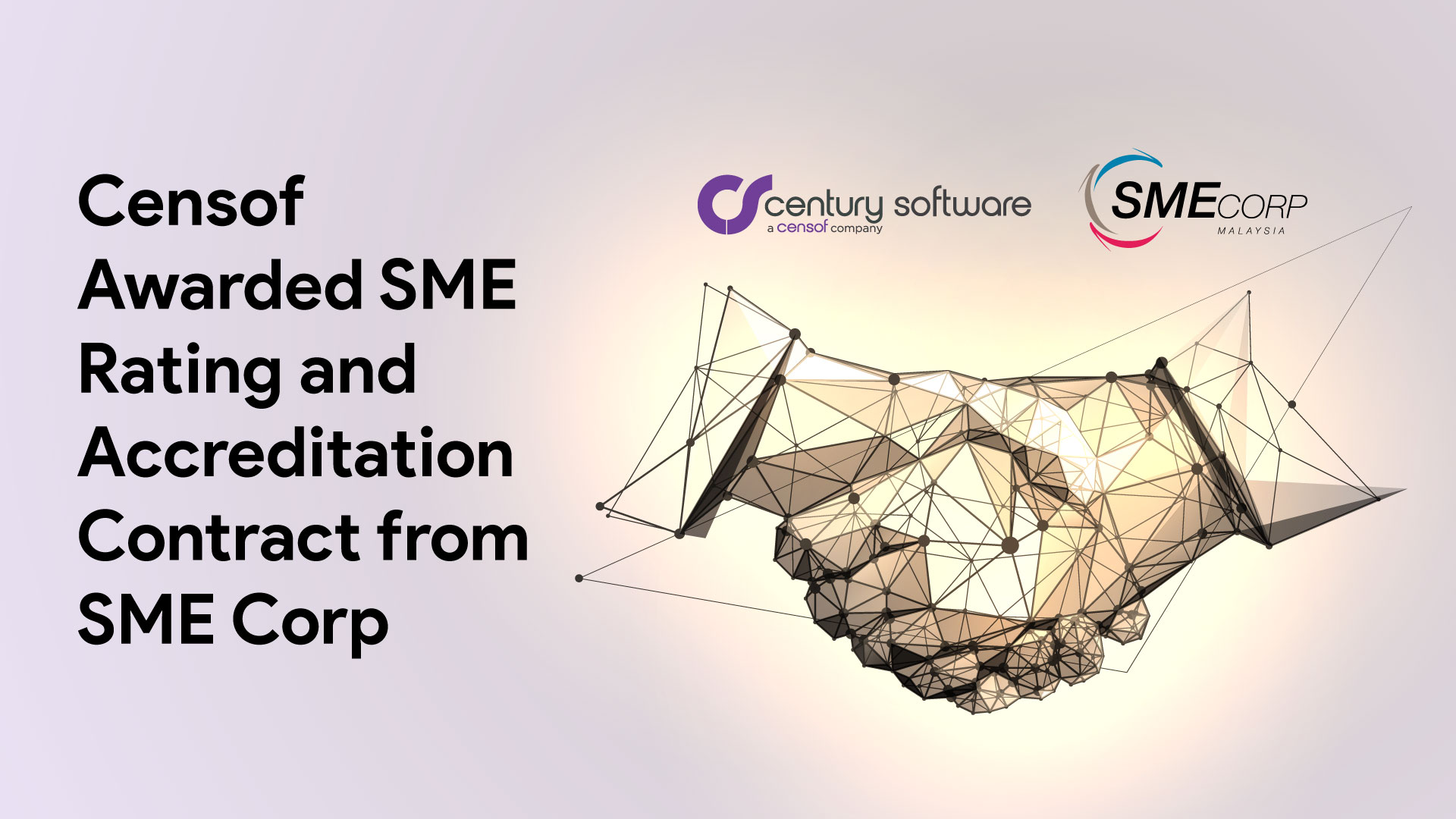 Kuala Lumpur, 10 February 2022 – Censof Holdings Berhad ("Censof" or the "Group"), a technology holdings company specialising in financial management software solutions, is pleased to announce that the Group has received the Letter of Award from SME Corporation Malaysia ("SME Corp") for the "Perkhidmatan Projek Pembangunan Platform SME Rating & Accreditation Fasa I SME Corp Malaysia" contract through its wholly-owned subsidiary, Century Software (Malaysia) Sdn Bhd.
The contract, valued at RM7.3 million, involves the building of an integrated application system for Small and Medium Enterprises ("SME") Rating and Accreditation phase 1 for SME Corp ("the Project"). This includes the project management services, change management services, training services, development of application system leveraging blockchain and eKYC, development of mobile application, development of application-programming interface and the provision of database software, report and analysis software and cloud server services. This application system will be integrated with Companies Commission of Malaysia, SME Corp's internal system, namely the SME Integrated Plan of Action System (SMEIPA), SME Central Incentives System (SCenic) and MyAssist System, as well as payment gateway providers in Malaysia.
The objective of the Project is to streamline the delivery system and increase the efficiency and productivity of SME Corp. All work processes will be automated, for instance, digital submission of documents. Payment processing can also be performed through this application system platform. Essentially, this Project will create a comprehensive integrated system with a centralised database that is equipped with the latest security features and technologies, such as blockchain and artificial intelligence and reduce manpower reliance in its scoring and accreditation process.
The contract is for a tenure of 45 months, commencing from 15 February 2022 to 14 November 2025.
"In this era of the fourth industrial revolution, it is imperative for us to accelerate the adoption of digitalisation, automating processes and transitioning to cloud platform. As such, we are extremely delighted to be given the avenue through this contract to further strengthen and expand our digital technology space within the rapidly growing Malaysian SME industry. Over the past few years, Censof has demonstrated its ability to provide innovative financial management solutions to the SME segment with its rapidly growing annual subscribers," said group managing director of Censof, Ameer Shaik Mydin.
He further added, "This marks Censof's position and role as a rating and accreditation system provider to SME Corp, providing the entire process from front to back end digitally that will benefit Malaysia's SME industry in line with RMK-12 Plans that was laid out by the government. We foresee this contract will enhance and improve the SME space that Censof is heavily embedded in by churning and providing accurate digitalised SME ratings and scores efficiently and timely to determine the competitiveness and capabilities of the SMEs. With this said, we hope that this Project will encourage more SMEs to venture into high-technology and innovative driven industries. The prospects and potential of this contract are endless and beyond its contract value for Censof as there are ample opportunities and ideas that can be explored upon its implementation."