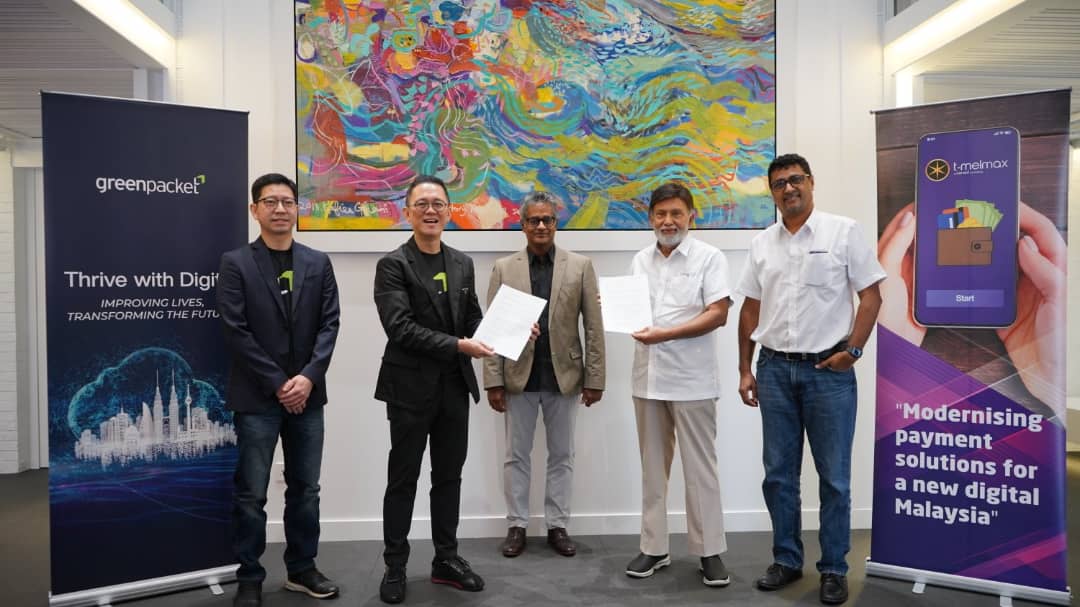 Kuala Lumpur, 28 September 2020 – Censof Holdings Berhad announced today its joint venture with Green Packet Berhad into integrated payments and fintech solutions through T-Melmax Sdn Bhd, a payment processing technology company owned by Censof Holdings Bhd, a company that specializes in financial management software solutions.
The acquisition also marked the establishment of a new joint venture between Censof Holdings Berhad and Green Packet Berhad as they worked together towards a joint vision of transforming T-Melmax into a digitally driven, real time multi-layer reporting preferred payment gateway service provider. Their move is strategic as they will be able to fill the gap in the market for SMEs, state government programs and enterprises who are looking for a one stop provider that is able to combine the power of real time cashless payments and accounting into a truly integrated seamless solution with end to end financial reporting analytics.
Established in 2002, T-Melmax Sdn Bhd focused on digitally automating and the simplification of handling and processing of bulk payment, bulk collection and other types of payments. Together with Green Packet's innovative payment solutions, we believe we could provide a one stop payments and collections solution to our large base of financial management systems in government agencies and SME's in Malaysia, Singapore and Hong Kong.
Censof Group Managing Director, Encik Ameer Shaik Mydin said, "The need for Digital payments is a norm in today's world. We often hear e-payments or electronic wallet becoming the core of daily business operations. The combined strength between T-Melmax and Green Packet will ensure delivery of digitalized strategies, products, and services in supporting our new digital Malaysia, especially in these unprecedented times of rapid change that require us to innovate faster more than ever."
"Head of Treasury, CFOs, financial leaders, and accounting teams everywhere need to strategically implement different digital tools as soon as possible to reap the rewards of greater productivity, efficiency and value-add for their organizations. T-Melmax has been a trusted provider for various government and agencies for various statutory payments and this partnership will help both companies leverage complementary strengths and bring greater value to our combined base of customers," said CC Puan, Group MD of Green Packet.
"Digital payments is the core need of every company. The combined strength of T-Melmax and Green Packet will seed further digitalization strategies to a new digital Malaysia, in line with the government initiative towards digital transformation", added Giritharan Nagalingam CEO of T-Melmax.
Censof Holdings Bhd and Green Packet Bhd are members of the GAIN programme, facilitated by the Malaysia Digital Economy Corporation (MDEC) to catalyse the expansion of Malaysian tech companies to soar on the global stage.
"This joint-venture demonstrates the muscles of our GAIN network and homegrown tech leadership. MDEC commends Green Packet and Censof for working collaboratively to create solutions that accelerate business automation and digitalisation to boost the growth and business footprint of local companies. We look forward to more of such partnerships to augment Malaysia's pursuit to be the Heart of Digital ASEAN," said Gopi Ganesalingam, Vice President of MDEC's Global Growth Acceleration Division.
Censof and Green Packet's continuous focus as key digital financial services platform providers on empowering the masses will further help to drive an inclusive cashless agenda across different communities, from instant disbursement of funds for government aid/benefits to powering small merchants and student communities. This strategic collaboration between Censof and Green Packet will look towards enabling every individual to thrive with life-improving digital innovation.