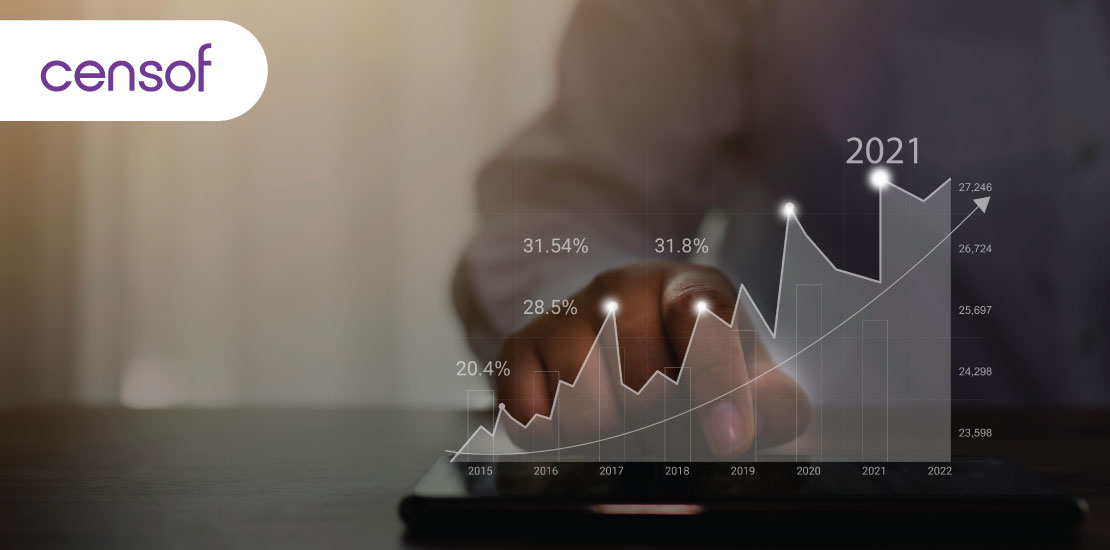 Business remains sturdy with increasing demands
Key Highlights
• Q3FY2021 revenue increased by 42.2% YoY.
• PBT soared by 431% YoY.
• PATAMI reported at RM2.0 million.
• Basic EPS improved to 0.40 sen.
• Healthy financial position with an improved net assets per share of 14.35 sen and cash and cash equivalent of RM26.4 million.
Kuala Lumpur, 8 February 2021 – Censof Holdings Berhad ("Censof" or the "Group"), a technology holdings company specialising in financial management software solutions, announced its third quarter ended 31 December 2020 ("Q3FY2021") financial results today, where revenue increased to RM23.7 million, from RM16.7 million in the corresponding quarter last year. The profit before tax ("PBT") rose from RM0.6 million to RM3.0 million while the profit after tax and minority interests ("PATAMI") was at RM2.0 million as compared to a loss of RM83,000 in the preceding year. Correspondingly, the basic earnings per share improved to 0.40 sen from a loss of 0.02 sen.
The revenue growth primarily came from higher project deliverables under the Financial Management Solutions – Government segment and contributions from the Financial Management Solutions – Commercial & Small Medium Enterprises ("SME") segment, arising from the higher demand for Asian Business Software Solutions Pte Ltd's ("ABSS") products and revenue from the Netsense Group, which was acquired in January 2020.
On top of the higher revenue, finance cost savings of approximately RM0.7 million per quarter upon the full settlement of share margin loan from MIDF Amanah Investment Bank Berhad and a term loan from Kenanga Investment Bank Berhad in second quarter of current financial year end, and a gain on fair value adjustment of approximately RM0.5 million on the short-term investment of Dagang NeXchange Berhad played a role in boosting Censof's Q3FY2021 earnings.
For the cumulative period ended 31 December 2020, Censof registered a 21.3% increase in revenue to RM55.0 million. Cumulative PBT was RM16.2 million, in contrast to RM3.0 million for the same period in the preceding year. The substantial increase was mainly due to a gain on fair value adjustment and a gain on disposal of quoted investment which amounted to approximately RM9.4 million and RM2.1 million respectively.
The Group's financial position remained healthy with an improvement of its net assets per share to 14.35 sen as at 31 December 2020, from 11.51 sen as at 31 March 2020. The Group's cash and cash equivalent also saw a surge to RM26.4 million from RM7.7 million.
"Amidst the challenging economic conditions that we are facing due to the COVID-19 pandemic, we continue to strive to deliver the highest standard of products to serve our customers, both the government sector and the SME market. Nonetheless, the pandemic has indeed expedited the migration of businesses towards paperless transaction and digitalisation. As such, we view this as an opportunity to push the adoption of technology transformation, leveraging on the demands for technology solutions in Malaysia and Singapore. With this said, we recently entered into a share sale and purchase agreement to acquire an additional 30.87% equity interest in ABSS, which will ultimately increase our stake from 58.2% to 89.07%, upon the completion of the proposed acquisition. This is a testament of our efforts as we remain committed to streamline and focus on growing our core businesses which have since produced positive results for the Group," said Ameer Shaik Mydin, group managing director of Censof.