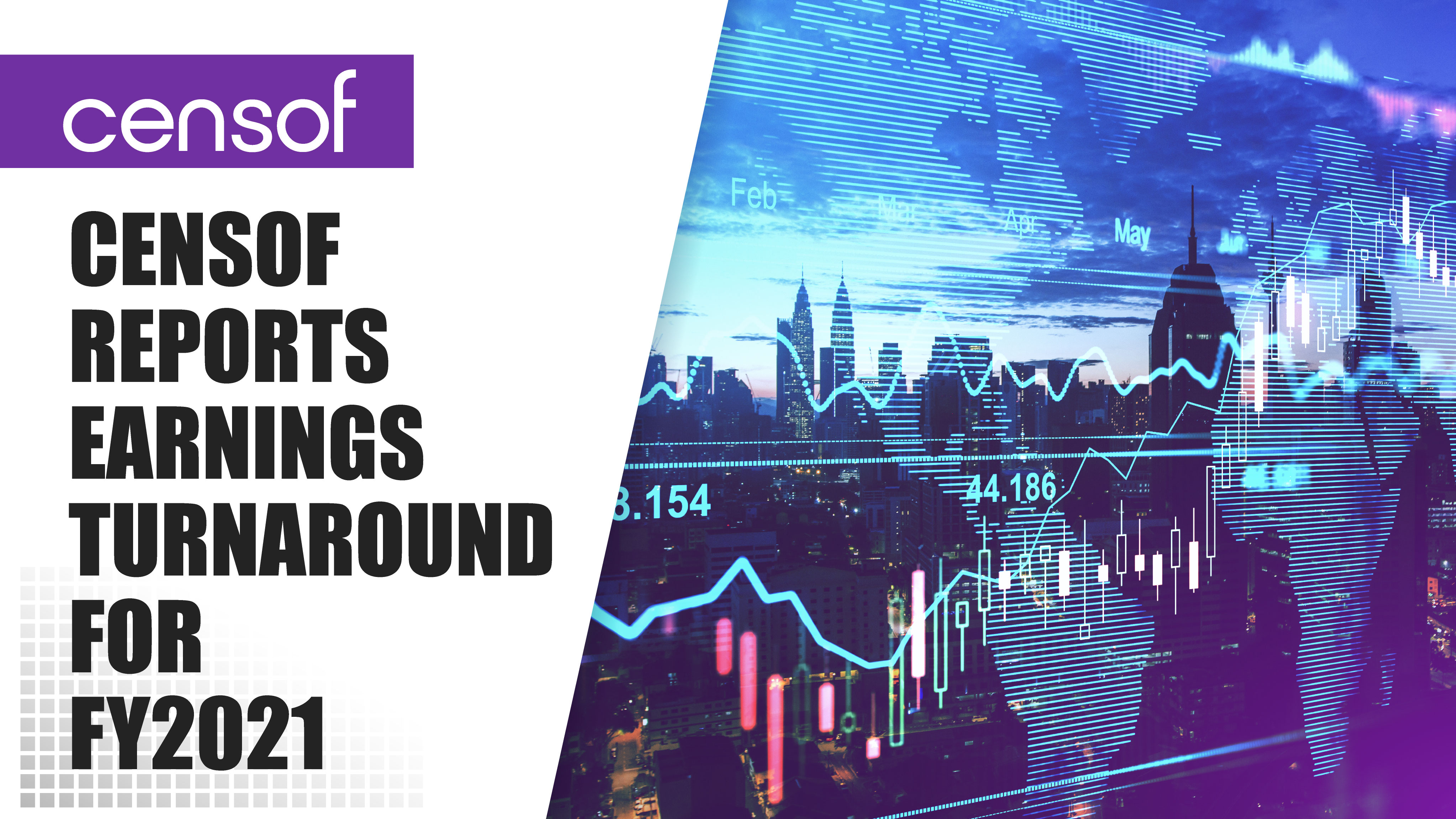 Full year FY2021 Highlights
Full year revenue of RM87.7 million, up by 12.6%.
PBT improved to RM29.8 million, from LBT of RM70.8 million.
PATAMI improved to RM26.8 million, from LATAMI of RM72.4 million.
Basic EPS of 5.32 sen.
Declares interim single-tier dividend of 0.75 sen per share for FY2021.
Fourth quarter FY2020 Highlights
PBT turnaround to RM13.5 million, from LBT of RM73.8 million.
PATAMI turnaround to RM12.7 million, from LATAMI of RM74.0 million.
Completion of the Subscription Agreement with Packet Interactive Sdn Bhd (Kiple Pay) to subscribe a 51% stake in T-Melmax Sdn Bhd.
Equity interest in ABSS increased to 89.07% from 58.20%.
Kuala Lumpur, 18 May 2021 – Censof Holdings Berhad ("Censof" or the "Group"), a technology holdings company specialising in financial management software solutions, announced its financial results for the fourth quarter and full year ended 31 March 2021 ("FY2021") today.
For the full year, revenue jumped 12.6% year-on-year to RM87.7 million, as a result of higher contributions from the financial management solutions – government ("FMS – G") and financial management solutions – commercial and small and medium enterprises ("FMS – C & SME") business segments. Correspondingly, profit before tax ("PBT") and profit after tax and minority interests ("PATAMI") were RM29.8 million and RM26.8 million respectively. The significant improvement in the Group's earnings in FY2021 were largely due to the higher profit contributions from FMS – G and FMS – C & SME of RM12.1 million and RM5.4 million, an increase by 47.5% and 126.4% respectively, as compared to FY2020. The recognition of a gain on fair value adjustment on short-term investment of approximately RM16.2 million and a gain on disposal of short-term investment of about RM2.1 million were also the positive contributing factors to the Group's profitability. On the whole, this was a major turnaround in contrast to the loss before tax of RM70.8 million and loss after tax and minority interests of RM72.4 million in FY2020, where a substantial loss was recognised in relation to the divestment of an associate, Dagang NeXchange Berhad's shares. Basic earnings per share for FY2021 was higher at 5.32 sen, compared to a loss of 14.43 sen in the previous year.
As for the fourth quarter 2020, revenue increased marginally by 0.6%, year on year to RM32.7 million, as a result of higher revenue generated from the Netsense Group and higher sales demand for the ABSS products in Singapore. Both fall under the ambit of the FMS – C & SME segment. More importantly, the PBT and PATAMI experienced impressive turnaround, having recorded profits of RM13.5 million and RM12.7 million respectively, from significant losses of RM73.8 million and RM74.0 million respectively a year ago. The profits were mainly attributable to improved contributions from the FMS – C & SME segments by 79.3%, savings of finance costs by RM0.7 million per quarter upon the settlement of share margin loan from MIDF and term loan from Kenanga Investment Bank Berhad, fast track of project deliverables from the FMS – G segment and a gain recognition of RM6.8 million from the fair value adjustment on its short-term investment.
The Group's financial position remains healthy. Net assets per share improved to 15.89 sen as at 31 March 2021 from 11.51 sen twelve months earlier. The cash and bank balances in turn, surged to RM29.3 million from RM11.4 million as at end FY2020.
"I am extremely pleased that Censof has finally achieved a turnaround year after booking three consecutive years of losses. FY2021 has been a turning point for Censof where we will continue to accelerate forward. While the overall economic conditions continue to present a challenge for us with re-imposition of the COVID-19 related restrictions, Censof will remain resilient in such uncertain times. As this is only the beginning of our turnaround story, we pledge to strive and deliver the highest standard of products to serve all our customers.
"We foresee an acceleration in the shift of businesses towards adopting digitalisation with the support of grants and initiatives by the government in that agenda. As such, we are confident that the demand for technology solutions will continue to grow as we explore more opportunities to develop unique products and solutions together with our strategic alliances and partners to expand our business solutions. The collaboration with Kiple Pay via the 51% subscription into T-Melmax and the recent increased equity interest in ABSS testify our efforts in exploring synergistic partnerships in enhancing our business in a sustainable manner. We are highly optimistic Censof will achieve better financial results, in line with our strategic roadmap to continue focusing and expanding our core businesses," said Ameer Shaik Mydin, group managing director of Censof.
The Board of Directors has declared an interim single-tier dividend of 0.75 sen per share on 552.3 million ordinary shares, amounting to approximately RM4.1 million, which shall be paid on 25 June 2021.