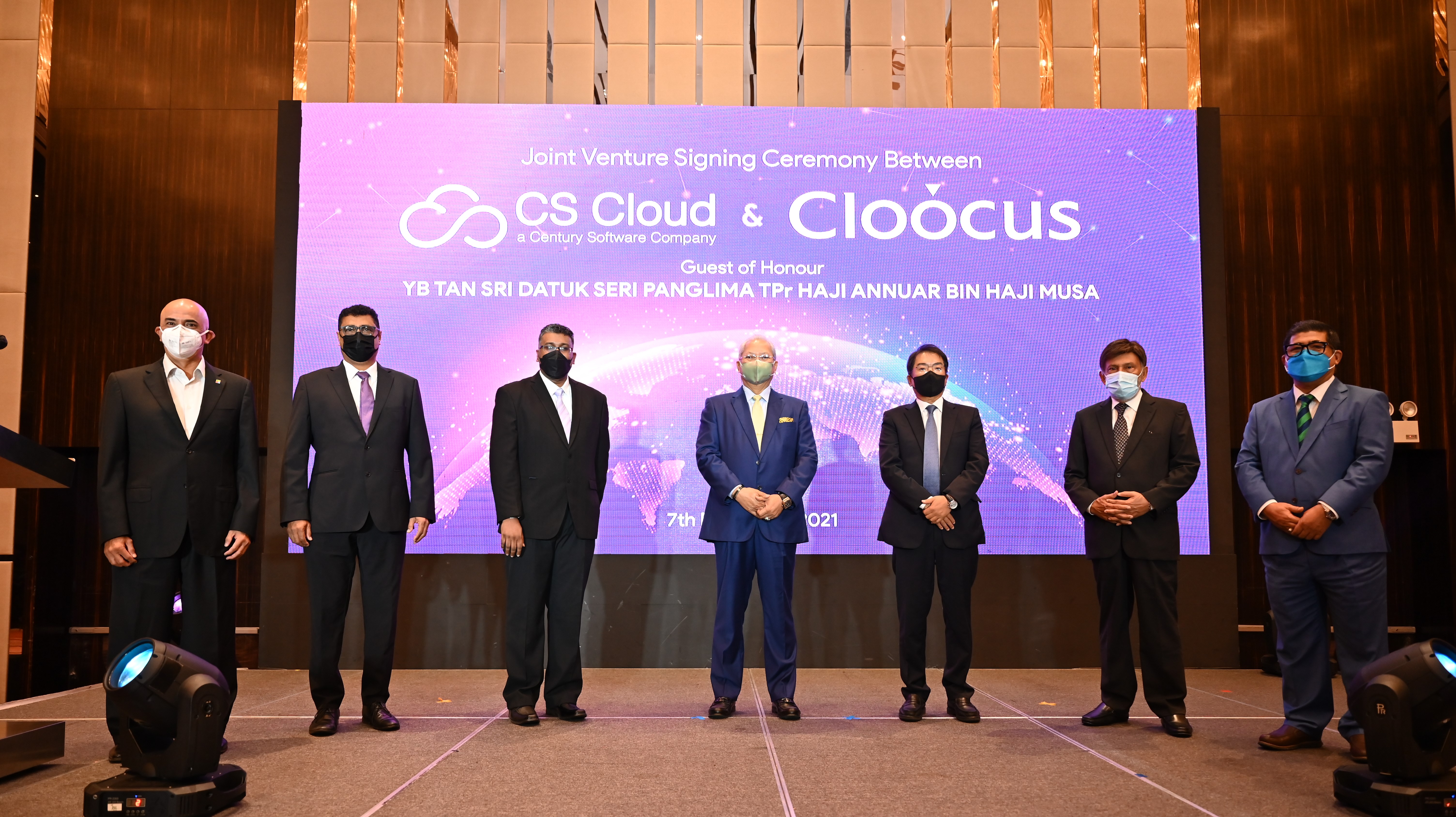 Kuala Lumpur, 7 December 2021 – CS Cloud Sdn Bhd ("CS Cloud"), a subsidiary of Censof Holdings Berhad ("Censof" or the "Group") signed a joint venture ("JV") agreement with Cloocus Co. Ltd ("Cloocus Korea") at a ceremony held today at the Sheraton Hotel Petaling Jaya to facilitate the mutual sharing of expertise in the area of cloud services. The JV was attended by YB Tan Sri Datuk Seri Panglima Haji Annuar bin Haji Musa, Minister of Communications and Multimedia Malaysia. The JV agreement was signed by Mr. Kavinthraj Panneerchelvam, chief executive officer of CS Cloud and Mr. Steve Hong, chief executive officer of Cloocus Korea.
The JV, which will see a formation of a new entity named Cloocus Sdn Bhd ("Cloocus"), will develop and operate a 'hyperscale (Microsoft Azure)' cloud management in Malaysia, in addition to the Microsoft business, including MW: Modern Work and Biz Apps. Cloocus will be owned 50-50 by CS Cloud and Cloocus Korea with an initial injection of US$2 million, which is equivalent to approximately RM8.4 million. Cloocus Korea will bring into the JV its technical expertise, resources and assets while CS Cloud will provide local sales network, marketing and customer related activities as well as knowledge of the local culture and customer pattern behaviours.
CS Cloud was established in 2020. It provides cloud computing platform that offers wide range of private and hybrid cloud deployments for both the public and private sectors, which are currently being deployed by the Ministry of Transport, National Water Services Commission (SPAN), Malaysian Pineapple Industry Board, Amanah Saham Nasional Berhad (ASNB), State Secretary of Penang and Malaysian Medical Council.
Established in 2019, Cloocus Korea provides full cloud services such as pre-consultation service, build service, managed service, big data/analytics and smart work to drive digital transformation by migrating to Microsoft Azure. Earlier this year, Cloocus Korea was selected as a representative company of Korea at the "2021 Partner of the Year Awards" hosted by Microsoft. The award, given to each country's partner, demonstrates the superiority in delivering Microsoft technology and solutions to customers throughout the year.
During the ceremony, Mr Kavinthraj Panneerchelvam, the chief executive officer of CS Cloud shared the importance of the JV. "We are making significant commitments to drive the digitalisation transformation forward in Malaysia, especially in the area of cloud services. There is no doubt that the global pandemic of COVID-19 has inevitably accelerated the digital transformation process. This collaboration is anticipated to open up businesses and growth opportunities for the digital economy and at the same time as a mechanism to boost foreign investors' confidence to invest in our local businesses. Thus, this will further strengthen Malaysia's foreign direct investment."
Mr Kavinthraj added, "We share in the government's plans to advance digital transformation. As such, our collaboration is in line with the MyDigital blueprint to transform Malaysia into a digitally driven, high-income nation and regional leader in digital economy. With the same vision under the "Bersama Malaysia" initiative, Microsoft is committed to support MyDigital ambitions and to empower Malaysia's inclusive digital economy across the public and private sectors with the establishment of a data centre region in the Greater Klang Valley. We are in full support of the government's efforts to drive growth and develop the digital economy to create an innovative and technology-integrated society. In a nutshell, this collaboration aims not only to support digital economy but to provide local entities with a more comprehensive cloud system. The enhancement of the digital economy also complements the recently launched "Keluarga Malaysia", which was officiated by Prime Minister Yang Amat Berhormat Dato' Sri Ismail Sabri bin Yaakob, formulated to achieve developed nation and high-income status as Malaysians of different backgrounds, cultures and beliefs stand united to develop the country."
Chief executive officer of Cloocus Korea, Mr Steve Hong said, "One of Southeast Asia's richest countries with developed public and financial markets, Malaysia is a country where the cloud journey can be fully accelerated with the establishment of Microsoft Azure Data Center this year. Utilizing its rich cloud services, Cloocus Group plans to pioneer and create a revolutionary impact on the Malaysian cloud market by joining hands with Censof Group, an established institution in the public financial market."
According to global research and advisory firm, Gartner Inc, the worldwide end-user spending on public cloud services is forecast to grow 18.4% in 2021 to US$304.9 billion, from US$257.7 billion in 2020. Closer to home, the cloud computing market in Malaysia is expected to be worth US$3.7 billion in 2024, growing at a compound annual growth rate of 13% from 2020.