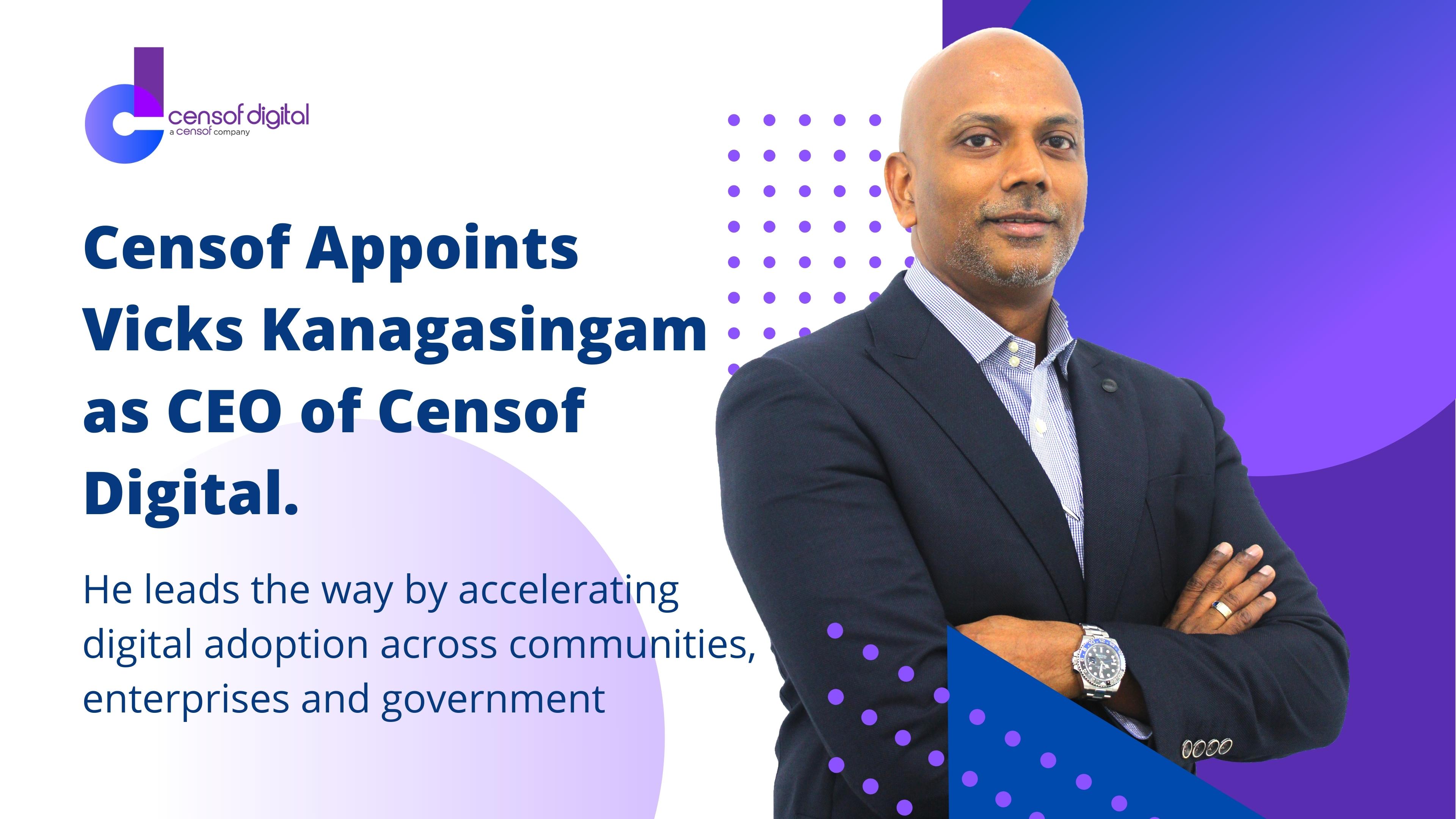 Kuala Lumpur, 25 January 2022 – Censof Holdings Berhad ("Censof" or the "Group"), a technology holdings company specialising in financial management software solutions is pleased to announce the appointment of Vicks Kanagasingam as Chief Executive Officer ("CEO") of Censof Digital Sdn Bhd ("CDSB") with effect from 1 January 2022.
Vicks has over 28 years of experience in leadership role in sales, business development, partner/alliance management, marketing and operations primarily in the telecommunications and information technology industry. He has developed businesses in Asia Pacific for start-ups from the United Kingdom, France and Australia, securing multi-million dollar contracts from communication service providers including Telstra in Australia, Maxis, Celcom and Astro in Malaysia and Telkomsel, Axis and XL in Indonesia, to name a few. He is no stranger to the technology start-up scene, having founded IoT Integrator, which was acquired by Xperanti IoT (M) Sdn Bhd ("Xperanti") in 2018 and appointed as CEO of Xperanti – Malaysia's first licensed dedicated Internet of Things (IoT) network and solutions provider.
Vicks has also collaborated with global players such as Huawei, Alcatel-Lucent, Logica, Amdocs, Ericsson, IBM, HP, Microsoft, AWS, Nokia-Siemens, Tata Consultancy Services and NEC as strategic partners to penetrate markets and develop businesses in the telecommunications and information technology industry.
"We are delighted to rope in Vicks to spearhead the future direction of CDSB given his vast experience in artificial intelligence, Internet of Things (IoT) and Industrial Revolution 4.0. He is a thought leader in digital transformation where he is seen as a coach, who is ahead in emerging tech. Being considered as a leading industry expert by his peers and a major advocate for localised industrial IoT solutions, Vicks provides coaching and mentoring for local start-ups to help them develop solving approach skills and processes, collaborate and co-create with partners and clients as well as strategise to scale within Malaysia and expand into the Southeast Asia region.
With a strong passion for technology, we believe he will be invaluable to our aim to bridge the digital divide by accelerating digital adoption across communities, enterprises and government," said Ameer Shaik Mydin, group managing director of Censof.
Meanwhile, Vicks said, "I am honoured to be given this opportunity to join CDSB as it is a sound company with a vision to help the country fast-track its digital transformation agenda. I am putting in place plans to build an ecosystem of local tech start-ups, which will drive the nation's digitalisation plans."
Vicks highlighted that digital adoption is in line with the government's aim to provide an enabling environment for the growth of the digital economy under the 12th Malaysia Plan (12MP). One of the objectives under the 12MP is to lay the foundation to position Malaysia as a high-tech and high-income nation by the end of this decade.
"This is where CDSB will play its part in accelerating technology adoption and innovation, which is one of the four policy enablers under the 12MP. With a slew of products and services developed by CDSB, we are able to transform micro, small and medium enterprises as the new driver of growth, which is one of the 14 Game Changers in 12MP," he added.
CDSB, which is a wholly-owned subsidiary of Censof, was formed as a one-stop digital solution provider focusing on digital transformation, mobility and Big Data, to achieve operational excellence, improve predictability and enable new revenue streams.